PZU-6-10kV-PS-2
Purpose:
A device is used for installation on the supporting clamp with a lug with a single lug of a suspended glass insulator.
Voltage class: 6-20 kV
Description:
The device is prefabricated, it consists of a hood and two corrugated sleeves, it is attached to the overhead line wire using internal reusable fasteners – ZMI-2 clips. The original design of the hood, consisting of two parts, interconnected from below by axial hinges, which allow you to open and close the hood. There are latches on the top for locking. Corrugated sleeves are attached to the hood with a locking connection, which is part of the design.
The composition of the device kit:
– hood of the bird protection device PZU-6-10kV-PSD – 1 pc.;
– sleeve of the bird protection device PZU-6-10kV-MGL – 2 pcs.;
– a means of fastening the ROM on the wires (screed) – 4 pcs.;
– operation manual – 1 pc. per batch of PZU.
Overall dimensions:
1485 x 82 x 125 (length x width x height).
Weight, kg – 0.440.
This model is intended for installation on a supporting clamp of the PGN type of a linear suspension insulator of the PS type of an overhead power transmission line with a power of 10 kV.
Advantages:
Pre-assembly, quick installation of the hood "in two clicks", lightness, compactness, cost-effectiveness of the product compared to similar devices from other manufacturers.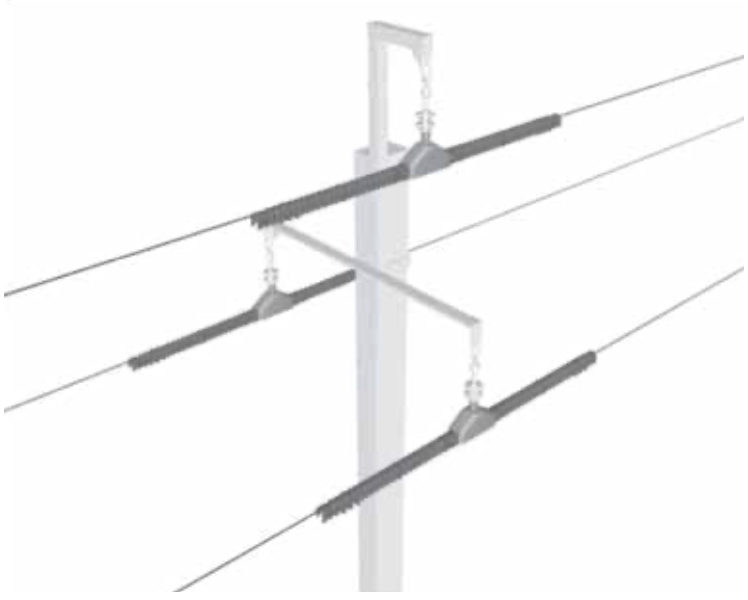 Power transmission line pole equipped with PZU-6-10kV-PS-2